As we are working out the finishing details of our Living Room Makeover, we needed to decide on chairs.
I wrote this post asking for your opinion
, and pretty unanimously, you said, the
Dolce Slipper Chair
. I originally saw this chair on
Young House Love
. They had not just one, but two Dolce Slipper Chairs!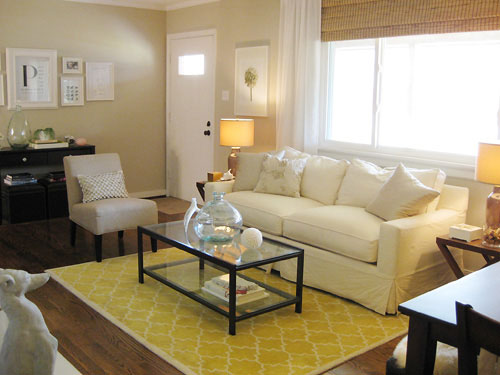 via Young House Love
I was slightly hesitant about ordering something online without seeing it, but, after much reassurance from you, we decided to go for it. We only bought one, just in case it didn't work for the space. We figured we could always stick it in our bedroom if it didn't work out. It arrived just a couple days after ordering it...(and we got free shipping).
Calvin and Hobbes
, I mean, Dmitri and Sookie enjoyed helping unpack.
And here it is after a laborious assembly courtesy of David.
What do you think? And in case you are wondering, the walls really aren't that dark. That's what happens when I take photos at 7 PM. (Sorry, watching this week's episode of Weeds took higher priority.)
Sookie thinks it's just for her.
A Review of the Chair:
As people have written on the Target website, it is a pain to put together. The pre-drilled holes are completely uneven. Somehow, David miraculously made it work, though it took a while. One of the legs is still a little crooked, but it's not too bad. It's also much bigger than either of us expected. All in all, I don't think it's a bad chair for the price.
Now we just have to decide if a second one is in order....I think I'm really liking it.