As bloggers, we get to glance into each other's lives, families, and homes. And now, you get to take a look into some of my favorite blogger's refrigerators during the blog series: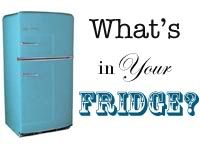 Who knows what we might find lurking in the depths of their fridge shelves...So stay tuned this week to see inside the refrigerators of:
Emerald Cove
Under the Table and Dreaming
Jeremy & Kathleen
Full House
And get your refrigerators ready for the Fridge Reveal Link Party at the end of the series!
You might notice that things look a little different around here. Thanks to With Two Cats
for the blog lift!